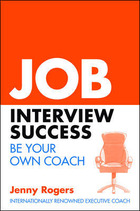 Job Interview Success
Jenny Rogers
February 2011
9780077130183
£9.99
Softback
240pp


Contact our Publicity Team to arrange a media review copy or an interview.

James Heath
Tel: 00 44(0)1628 502544

Connect with the Author
Jenny is based in the UK and available for interview
"If you've ever wondered what the interviewer really wants to know, Job Interview Success gives you all the answers- plus winning strategies for landing the job"
-Clare Whitmell, CVs and Interviews Expert for Guardian Careers
Myth: Job interviewers make their decisions on candidates rationally.
Reality: Choices on both sides of the interviewing table are made on the basis of emotion, later justified on rational grounds. What really sways interviewers are answers to the questions that are NEVER asked out loud at an interview.
"In my 18 years of coaching I haven't found a lot of the conventional wisdom about the job interview process to be true", Jenny says in Job Interview Success: Be Your Own Coach (McGraw-Hill, February 2011, £9.99), "In fact my approach upends commonly-told myths about the job interview- that you should second guess the questions, that you should rehearse your answers, that it is a logical, rational process, and that all the power resides in the selectors".
Instead Jenny teaches readers to understand and then manage the emotional and psychological aspects of the selection process, many of which, despite today's rigorous HR protocol, appear to be irrational, though actually they make perfect sense in the light of what we know about human behaviour. A candidate's likability, motivation and social skills are just some of these aspects, and interviewers make judgments on these on grounds of how you dress, how you handle nervousness and how you sit, stand, use language and talk. And we could all do with a helping hand; in Jenny's experience an executive in mid-career is no better at the job interview process than your average graduate straight out of university.
Jenny offers reliable guidance on all these behavioral and allegedly informal aspects of the selection process. She also coaches the reader in the art of skilled storytelling as a basis for interview answers, rather than rehearsing predicted questions. The book also looks at:
The ten most common mistakes and what to do instead

Researching the organisation and the job
Working with recruitment agencies and headhunters
Effective ways to manage panic, gabbling and freezing
Making the right impression and dressing the part
Handling the telephone interview and the trial by wine/canapés

All you need to know about assessment centres and giving a presentation



Jenny Rogers has an international reputation as a coach, consultant and writer on leadership issues. She works as an executive coach to directors and chief executives in leading public and private sector organisations. Jenny is full of enthusiasm, spark and flair. She enjoys challenging people's assumptions and has a long-standing interest in personal development. She has been a college lecturer and a freelance journalist and worked for twelve years as a BBC television producer- one of her projects was the 'discovery' of Delia Smith. She is a founder-member of the Management Futures training faculty, helping organisations and individuals learn how an uncertain future can be managed in a time of rapid change. Their clients include the BBC, NHS, Virgin Atlantic and Selfridges as well as thousands of managers and directors from all realms of business.